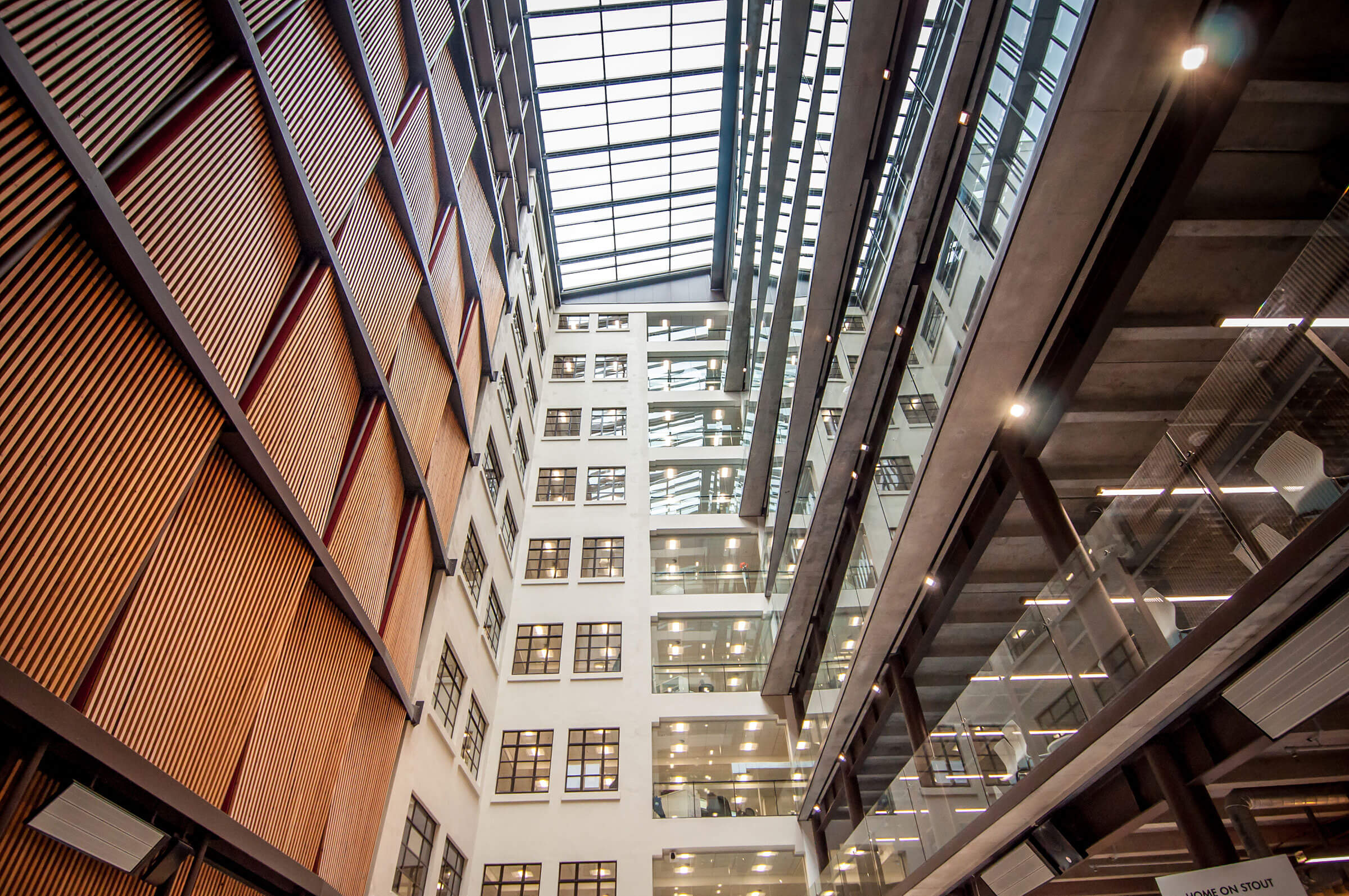 Our role
Building services design of base build
5 Star Green Star
Performance spec for landlord and tenant
Awards
5 Star Office Built Green Star rating
Green Building Category winner NZ Property Council Awards 2015
Gold winner at 2015 NZ Commercial Project Awards
Local NZIA Architecture Award with two excellence awards in Commercial and Heritage and Adaptive Reuse categories
The landmark Departmental Building (as it was known) at 15 Stout Street, Wellington was built between 1939-41 by Fletcher Construction. The Category 2 listed heritage building, with its impressive granite cladding and heritage curved bronze single-glazed windows has, over the years, housed various government departments – Treasury, Defence to name a couple.
In 2015 this building, now the home to some two thousand personnel for the Ministry of Business, Innovation and Employment, achieved a 5 Star Green Star Built Office rating after a major refurbishment by McKee Fehl Construction. With a net lettable area of over 19,000 m2 of office space, it is a significant office block in Wellington's central business district.
To achieve a 5 Star Green Star built office rating, many challenges had to be met but the 'bones' of the building – seismically sound with good structure and a good glazing ratio (i.e. not too many windows) – were there as a starting point. Some of the issues facing the team were:
The bronze single pane windows which offer no insulation and conduct cold to the interior of the building;
The new atrium had to be carefully designed so that it didn't act as a wind tunnel or be overglazed and therefore overheat the office spaces;
The acoustics with consideration given to the open plan nature of the floors and the central atrium design.
Improvements
The non-heritage skylights and the Level 8 roof were removed and high-performing atrium glazing with spectrally selective glass (decreased cooling and increased heating) was fitted;
The façade on the new construction areas was fully insulated;
A new building management system (BMS) with a focus on energy efficiency was installed;
The new services and plant room were chosen with sustainable construction and life cycle costs in mind;
The building was redesigned to maximise energy efficiency, minimise energy consumption and be low maintenance (all part of the Green Star criteria);
Insulation and new glazing (only Level 8 was fitted with low-e double glazing with thermal spacers) were selected for performance;
149 bike parks with extensive shower and locker facilities were created (with 25 car park spaces provided).
Innovations
In situ seismic testing was carried out prior to construction, removing the need for materials/costs of a seismic refit;
A new high efficiency multi-fan/multi zone EC fan coil was specifically developed and manufactured by Temperzone in New Zealand. The fan modulates according to internal conditions controlled by the BMS as an energy saving measure;
Advanced setback controls give the ability to save energy by changing the temperature set point to follow outside ambient air temperatures;
Heat recovery ventilation provides 22kWh/m2 annually which while the remaining heating provided by the gas boilers is predicted to be only 30kWh/m2;
Intelligent lighting with auto dimming occupancy sensor controls are linked to the BMS throughout the building. These controls were used to setback meeting rooms temperatures when unoccupied.
Optimum start, airflows and cooling are all regulated according to occupancy as interpreted by the BMS;
Emphasis was given to excellent indoor environmental quality by using low VOC emitting materials in ceiling tiles, timber, carpets, fabrics, paint and adhesives;
Interior visual comfort was given priority by ensuring good surface illuminance levels;
Accoustics were designed to meet the highest Green Star rating criteria.
Results
The building currently exceeds code seismically;
The project was completed on time and $2.2million under budget.
Measured water usage indicates significant reduction of consumption when compared with other new office building.
The addition of the atrium has created an additional 3,000m2 to the building's gross area while providing external views of the harbor and sky;
The building's intelligent design should deliver significant taxpayer savings, in the area of $40-$50 million over the next 20 years.